90's Hip-Hop Fashion: The Read Trendsetters & They Styled It
Iconic velour tracksuits, instantly recognizable Timberlands an array of baggy jeans and tees. The 90's hip-hop fashion brings back pleasant nostalgia of what feels like the golden era. This noteworthy decade has served some of the most memorable looks that dominated the closets of pretty much everyone for a very long time. From Run-D.M.C and Queen Latifah to LL Cool J, N.W.A and Aaliyah, the most prominent trendsetters of the time shook up an entire epoch.
Rappers in the 1990s transitioned from musicians to fashion trailblazers. In fact, leading names such as Ice Cube and Biggie Smalls were part of the reason why Timberland boots, hyper-buggy joggers, and dungarees and hoodies became staples. New York City quickly took the front stage, with fresh sportswear adopted from the late '80s flooding its streets during this era. For everyone who wants to get a glimpse of the true 90's Hip-hop fashion that dominated the scene, films like 8 Mile, All Eyez On Me, and Straight Outta Compton showcase some of the most enviable looks this decade had to offer.
90's Hip-Hop Fashion: The Influences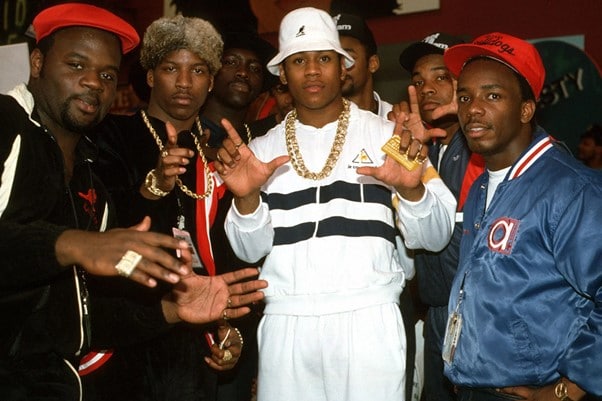 With such a remarkable history, it goes without saying that Hip Hop's fashion and style reflect a layers-deep story, a representation of inner style and one's identity and what he or she represents. Gangsta rap became one of hip hop's most popular styles, and by the mid-1990s, hip-hop fashion had been heavily influenced by the clothing worn by street thugs and inmates.
The familiar look of wearing baggy jeans without a belt was influenced by the prison where belts were among the first items taken when newly-arrived offenders were handed their uniforms. Hoodies, para-military boots like the Timberlands, and field jackets were blooming in New York City and the West Coast street culture. Additionally, flannel overshirts and Converse Chuck Taylors were an interchangeable part of the 90's Hip-hop fashion.
Hip Hop fashion for women during the 90's
Even though previously, women's fashion was pretty much similar, during the 90's, there was a subtle split. Baggy jeans, sunglasses, and military-style boots were still very much on-trend, however, similar to Da Brat, many women were on a mission to make industrial work trousers and Timberlands look a bit more feminine with the use of barely-there makeup and some lip gloss.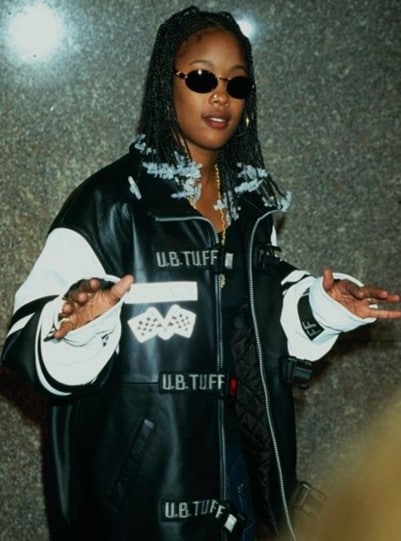 Later, hyper-glamourous 90's Hip-hop fashion for women was introduced by Kimora Lee Simmons as opposed to names like Eve and Lauryn Hill who continued to influence thousands of people with more conservative yet feminine and utterly hip-hop looks.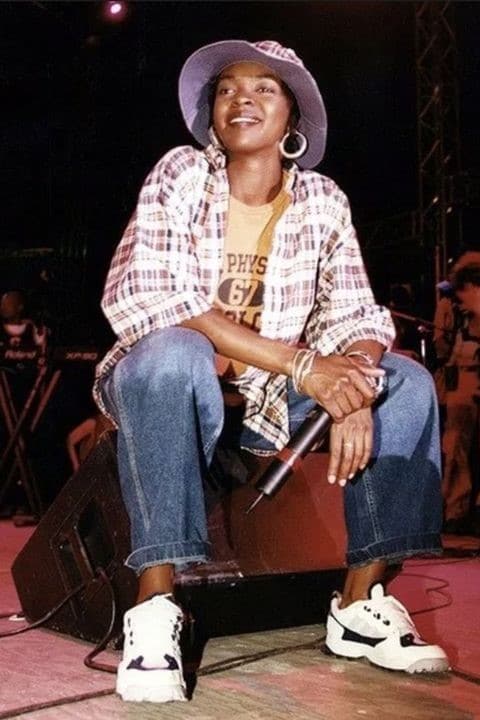 An array of blinks was adorning everyone's favorite platinum and silver jewelry. At this time, gold was pretty much entirely replaced with platinum-everything, and the street crowd was loving it!
How 90's Hip-hop Artists Were styling their fashion looks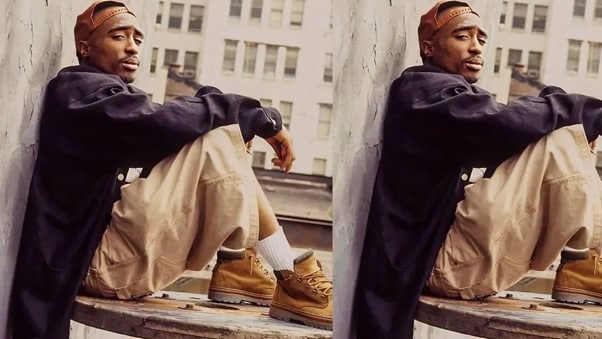 You can't talk about 90's fashion for men and women without mentioning the iconic suede boot which is soaked in heritage and rich history tight to the culture. Granted, every hip-hop artist from the east was spotted wearing these boots. We've seen Jay-z, Biggie, Tupac, Mobb Deep, and a plethora of other figures rocking their suede boots. Initially, Timberland created these styles with construction workers in mind, however by the mid-90's, this was the footwear of choice for New York City drug dealers who required a sturdy and warm design to get them through the long nights of "work".
While hip hop artists were rapping about severe real-life hardships like injustice and police violence in their neighborhoods they were also living near several drug dealers who influenced their fashion sense in the 1990s.
Rob Walker, in his book "Buying In", a publication filled with social science studies, observations, and interviews, mentioned that "the legend goes that the first 'urban' buyers of Timberland boots were New York drug dealers – guys who had to stand on the street all night and needed the best possible footwear to keep them warm and dry".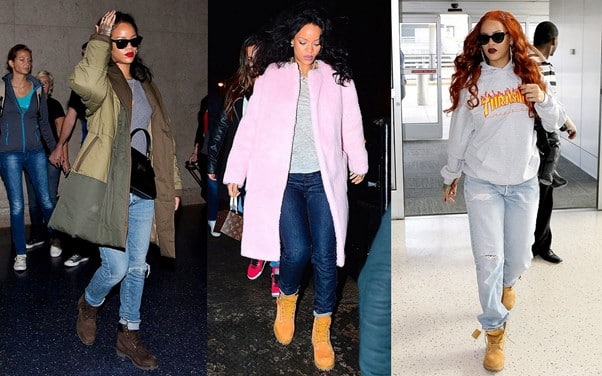 More and more artists like Rihanna, Kanye West, and J Lo are still rocking their Timberlands 6″ o this day.
Baggy T-shirts & graffiti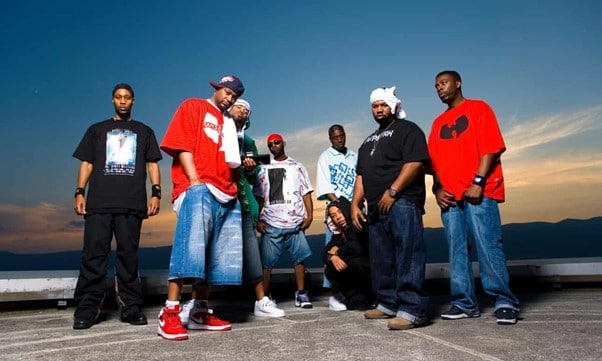 You can't think of 90's Hip-hop fashion without thinking of baggy t-shirts. Loved by men and women equally, baggy tees will forever remain a staple of this icon era.
Pretty much every teenager used to grab their older brothers' or cousin's tees. A plain-color t-shirt, oversized sweatpants, their trusted Timberlands, and an eye-catching chain was it look of the streets of NYC.
Graffiti was a prominent part of the culture and a creative way for people to express themselves through art. Soon enough, along with the trains, streets, subways, t-shirts also received the royal treatment. Bright, bold colors, intricate styles, and patterns were the heart of the Hip Hop culture for quite some time.
Even though the baggy T-shirt trend was prominent during the 90's, nowadays the ultra-oversized fit has been swapped with loose-fitted t-shirts paired up with straight-leg pants, cargo trousers, and sweatpants. Nonetheless, chains are still a hip-hop fashion staple that will never go out of style.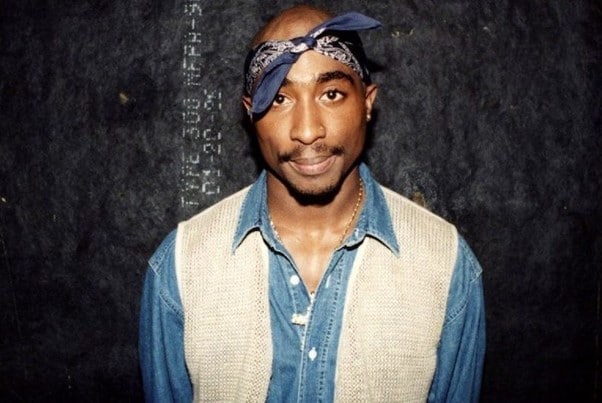 Similar to Timberlands, bandanas were ruling the 90's Hip-hop fashion scene.
Back in the day, the most popular hip-hop subgenres of gangsta rap were defined by 3 widely feared inner-city gangs with each of them having its own, distinctive colors. Bloods and Crips, the Los-Angeles-based gangs wore red and blue colors, while Latin Kings, the Latino gang straight from Chicago, had adopted black and gold colors.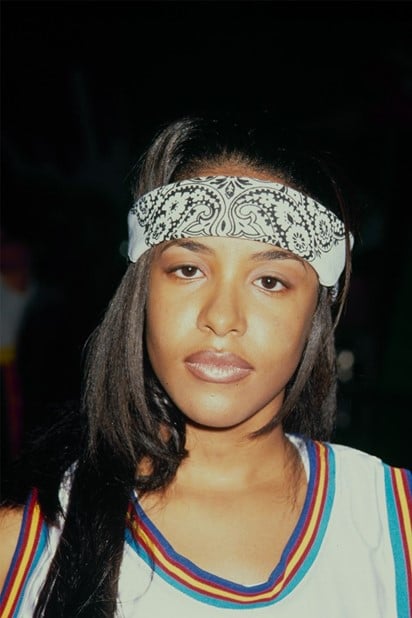 For each of these three gangs, paisley bandanas served as a symbol of their connection to the other members of the group. Even when a rapper gained significant fame for his music, his gang's colors continued to "dress" him. From Aaliyah to Tupac, everyone has been spotted wearing a paisley bandana, however, some were more prominent than others.
Nowadays, these bandanas can be worn tied around the wrist, wrapped around a bag's handle, and of course, traditionally. Additionally, some women wrap them around their ponytails like a hair accessory.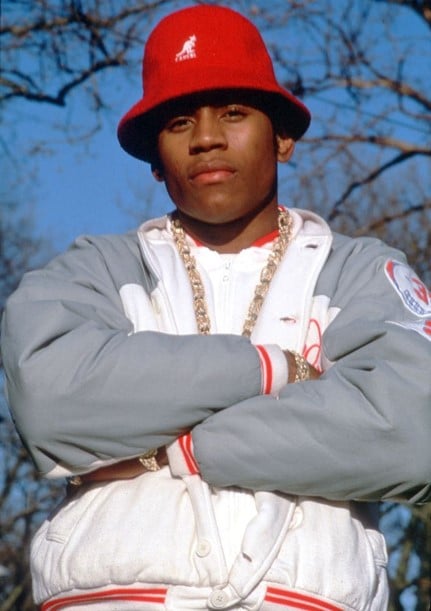 When LL Cool J wore his favorite Kangol hat back in the 80's and 90's, he most definitely couldn't imagine its success. As shown in most of his music videos, these hats added a fantastic finishing touch to every look and the entire 90's Hip-hop fashion world was quick to catch on. Later, Ice Cube in F. Gary Gray's Straight Outta Compton commented on the popular trend, "Wearing Kangol don't make you LL Cool J.", The artist was often seen pairing his Kangol hats up with a PUMA tee and chunky gold chains.
Bucket hats were Kangol's baby brother with a way more affordable price tag attached to them. And even though the latter style isn't that popular today, almost everyone owns at least one bucket hat.
These days, bucket hats are styled up with tracksuits, and all types of streetwear for men and women.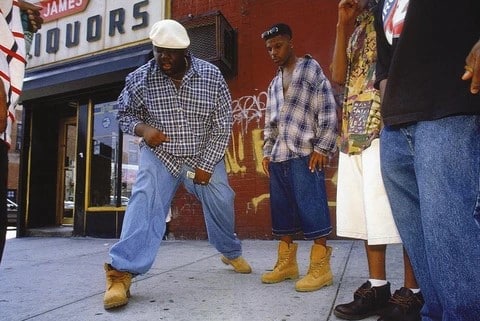 Check flannel shirt is a staple piece in every American wardrobe, however, these shirts and jackets used to absolutely reign supreme. The 90's Hip-hop fashion revolves around these oversized styles and Snoop Dog has been spotted rocking his favorite design a plethora of times. In 2021, flannels have made a comeback, but this time they can be styled with everything from jeans and denim skirts to hoodies, t-shirts, and dresses.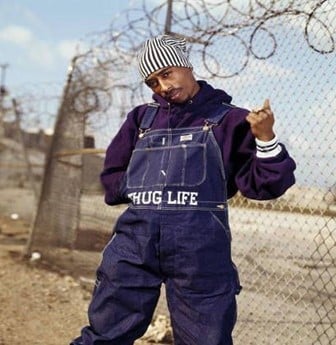 Just like the Fresh Prince of Bel-Air, many hip-hop artists adopted the dungarees trend in the 90's. Similar to the Timbs, this style was also made with workers in mind, however, what was once a protective garment has gone fully 90's Hip-hop fashion. Well-loved artists like TLC, Will Smith, Tupac, and The Fugees have been spotted wearing these denim looks.
Even Beyonce wore a pair of dungarees making it relevant once again a few months ago.