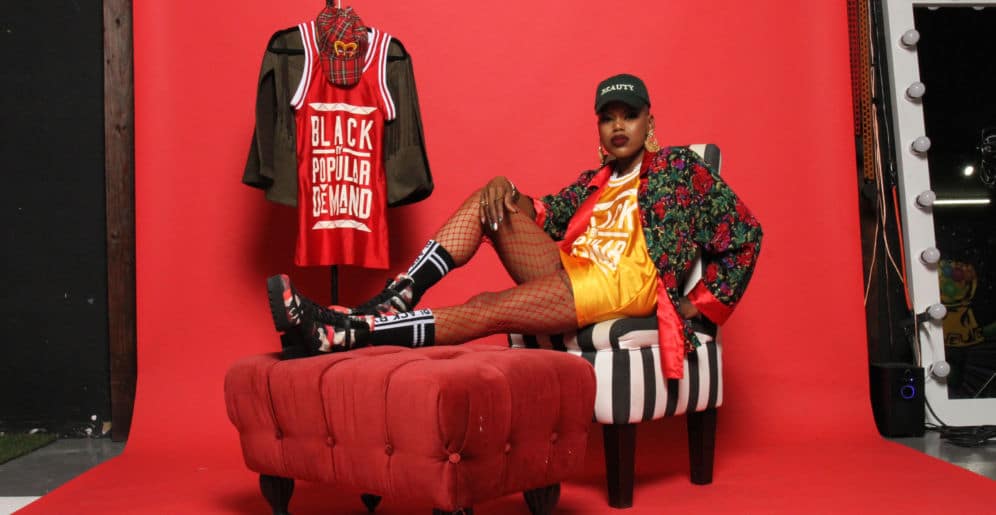 Marcia Smith and her team started her business back in 2011 and in 8 years turned it into one of the biggest clothing brands owned and run by a Black woman. HGC Apparel is a retro sportswear brand, created for us, by us. With powerful messages in nostalgic prints, HGC Apparel knows how to pull in the community with their 90s Black consciousness theme.
What does HGC stand for?
HGC stands for Hot Greeks Couture. When I was at Howard, I pledged there and created clothing for D9 orgs, so I named it Hot Greeks Couture. I was putting leopard prints, stripes — much like I do now — I was doing it with Divine 9 clothes. It wasn't until 2011 or 12 that I decided to expand and make items for all Black people.
How does the 90s aesthetic bring out Black pride and social consciousness?
Iconic hip hop figures like Andre 3000 and Tupac were inspiring to a generation. From the tattoos on Tupac's chest and the gold rings, celebrating Black culture was a moment and impactful for our culture. Wearing slogan tees or sweatshirts with empowering messages was a form of being heard. 90s fashion, in general, was very important and helped to bring social awareness to issues beyond the Black community. There were positive messages coming from the radio about reading, unity, community building, uplifting messages — Queen Latifah wearing the crown and African print — I wanted to bring that wave back in our own way.
You launched your business during a very unique time of your life, how were you able to maintain the two very different worlds?
Yes, I was in the military for 8 years, stationed in countries like Germany, Poland and South Korea. While deployed and in these foreign countries, I was unable to attend any events or pop-ups that had to do with business progression, so the only thing I could do was focus on building the e-commerce business. Every military unit I was in, I was a mission-essential character or in a rapidly deploying unit. Any extracurricular events or activities were denied because you were vital to the mission of that unit. I had to become fluent in e-commerce because of the restraints I had while in these overseas environments. Sometimes, I would have five to six portable charging packs because we were in a field environment for up to 30 days and we only have one generator for power.
What is the future of Black consciousness in your brand?
From scholarships to mentoring, I hope to be a resource for the community that supports us. To help empower the next generation.
What message would you share with Black creatives/entrepreneurs trying to make their mark in fashion, design, branding?
For Black creatives, entrepreneurs, and designers I challenge each one of them to just be original and dream big. Always think about the future and be dedicated and give back to your community. Be driven and focus on developing your talents and know that love and passion will help your business and brand flourish. People and customers can feel when you love what you do. It comes through in the work.
If you could do it all over again, what would you do differently for your business?
Nothing. I needed those obstacles. Everything that blocked me, stopped me, was added on — it's what got me to where I am today. It's what shaped me into who I am today, I wouldn't change it at all.
So where can you access this poppin' collection? Right here. Make sure to follow her brand's page on Instagram to stay up to date on new drops and pop-up locations. We also heard through the grapevine she'll be doing an HBCU collaboration later this year to remind us of the 90s Homecoming experience… keep up with Miss Marcia to find out when!