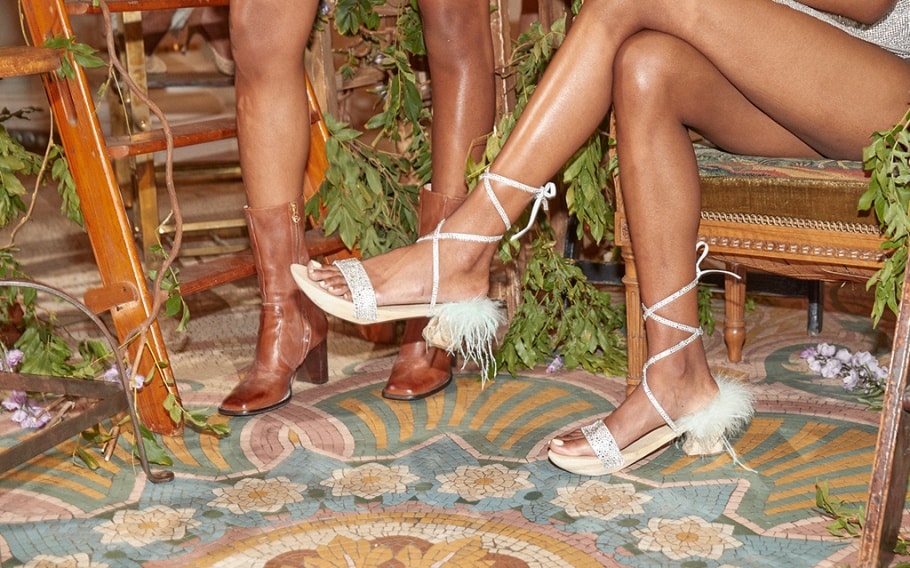 By Shannon Adducci, Samantha Peters as seen here.
In the wake of George Floyd's death and the world's call to end police brutality, there are many ways to support the #BlackLivesMatter cause. Among them, you can join a protest, donate to civil rights and justice organizations, write petitions to government leaders and at the very basic level, educate yourself on the ways systemic racism has persisted in society. Another powerful way is to donate to black-owned businesses, including black-owned fashion and shoe brands.
Not only have have African American businesses been hit the hardest by Covid-19 store closures, but they've also historically struggled with securing capital as a result of discriminatory lending practices and lack of ties with big banks. And in the fashion industry specifically, which has profited off appropriating black culture for decades, black faces still aren't represented equally. Black designers remain a rarity, and as reported by Forbes, Louis Vuitton's Virgil Abloh and Balmain's Olivier Rousteing are the only black creative directors at major brands to this day.
Ahead, we rounded up a range of black-owned fashion and shoe brands you can shop, from big to lesser-known labels. While the list isn't exhaustive, it offers a touching point for exercising your buying power to help enact change and keep black-owned companies like these thriving.
HGC Apparel
Activist Marcia Smith created HGC Apparel (aka Haute Greek Couture) in 2006 with a mission to advocate for and uplift the black community. The brand, which grew from custom designs Smith sold to sororities and fraternities on her college campus, includes a range of t-shirts, hoodies and more featuring poignant messages like "Black By Popular Demand," and "Stop Criminalizing Black Children." The designs also include clear 90s influences — from bright color-blocking to bold lettering — as an homage to the decade in which Smith grew up in. Today, the socially conscious label has earned a following among high-profile names like actress Zendaya and Congresswoman Maxine Waters.